Lunch Program
Milk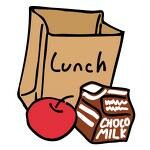 Milk is available at the schoo every day. You can pre-pay for white or chocolate milk tickets through the office.  Tickets cost $1.00 each and can also be purchased in multiples of ten.  Tickets can be kept by the students or parents can take them home to include in their child's lunch each day.  Please contact the office if you have additional questions. 
Noon Supervision
Lunch room supervision is provided at Westboro School on a user-pay basis, for all students. Lunch students are supervised in their classrooms during the lunch period. Students who stay for lunch are not permitted to leave the school grounds during the school day. If your child is leaving the school please contact the school office.
Noon supervisors provide paid coverage for all students and classes during the lunch time.  All supervisors go outside with the students during the recess break.  During the eating time, these supervisors assist students with milk purchases, opening "tricky" packages and generally watch behaviours.
Hot Lunch Program
The Parents' Group organizes hot lunches and hot dog lunches for our students a couple of times each month.  They operate through an on-line ordering system.  More information about this system can be found on our Council tab.  
Please contact:
westborohotlunches@gmail.com
for additional questions.